SOURCE ARTICLE : EMF Community
For 500 years since Copernicus, Krakow has revolutionized science. Today the city stands alone in the conflict over the safety of electromagnetic radiation to protect its citizens.
(Krakow, Poland) At the Third International Forum on Protection from Electromagnetic Environmental Pollution three scientists speaking the city's Hall of Sessions told the international audience of the threat posed by modern microwave based technology to human life amide and environment of political and corporate corruption. Krakow remains the only municipality on the planet to protect it's citizens from the dangers of electromagnetic radiation pollution.
On the same day as the conference, The United Nations International Telecommunications Union (ITU) issued a press release promoting global wireless technology including: regulatory sandboxes of enterprise; 'start-up and experiment' interfaces and 5G projects". The ITU sponsored a symposium in Geneva and produced "guidelines for encouraging policy and regulatory measures to facilitate the deployment and use of emerging technologies for affordable digital infrastructure and services".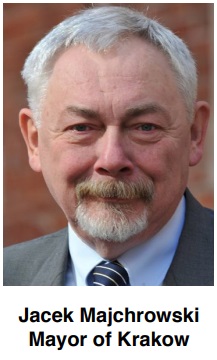 Nowhere is the issue of planetary security, or health and safety addressed. The Forum was opened by Jacek Maria Majchrowski, Mayor of the Royal Capital City of Kraków since 2002 (reelected in 2006, 2010 and in 2014), a professor of law and history (since 1988) at Copernicus' Jagiellonian University. A member of the Democratic Left Alliance, Majchrowski's left-wing stance became globally-renown when he was snubbed during a visit to the city
by US president George W Bush, due to his opposition to the Iraq war and his country's forces involvement in it.
The profound historic significance of Bush's behaviour in Poland can not be over-emphazied. G.W. Bush's grandfather, Prescott Bush, was immersed in business dealings with the Nazis and deployment of I.B.M's technology – the Hollerith machine – which used punch cards to keep track of trains and prisoners to the Auschwith-Birkenau complex – an hour's drive from Krakow – before turning to computers. The program was administered from Wael Castle in Krakow and operated from a facility across the street from a modern day  hopping center and train station at 22 Pawia Street. According to Edmond Black, author of IBM and the Holocaust, a third machine was located little over a mile from Auschwitz III, also known as Monowitz Concentration Camp.
On the world stage, while Krakow works to inform it's citizens about microwave electromagnetic technology, Warsaw (capital city) are negotiating to roll out 5G.
The very heart of Poland is at risk.
Presenter for the event was Marta Patena, Councillor of the City of Krakow and long-time promoter of protecting citizens from electromagnetic pollution.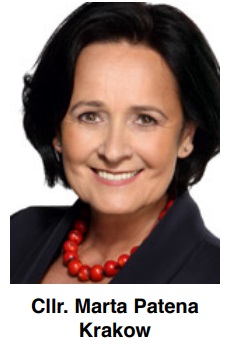 A mathematician, Patena has been a member of the Krakow City Council for 16 years and now plans to run for the Małopolska Regional Assembly – for Krakow. Prior to the guest presentations, Cllr. Patena was presented with an Award of Merit by Mayor Michrowski for her services to the city of Krakow.
The three guest speakers at the event included:
•Dott.ssa Fiorella Belpoggi (Italy), director, Cesare Maltoni Cancer Research Center,
Ramazzini Institute, Bologna, Italy.
•Dr. Marc Arazi (France), Président "Alerte Phonegate".
•Prof. Olle Johansson (Sweden), Neuroscientist.